Aluminum Extrusions
Aluminum extrusions are created by pressing aluminum billets through a steel die to produce the desired shape. We can produce shapes with a weight per foot as little as .040 up to 7.00! Some of our extrusions include shapes up to 8.500" wide and others as small as .250" in diameter. These extrusions are then either sent to packaging for shipment, or to the Fabrication or CNC departments for further processing. Contact Zarbana Aluminum Extrusions, LLC. today to find out how we can help you with your aluminum needs!

See All Standard Shapes

Download Standard
Shapes List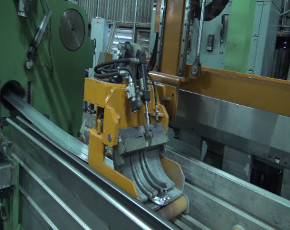 Fabrication
We have many different capabilities at our disposal in the Fabrication Department. As a result of the numerous capabilities and abundantly experienced fabrication staff, we can satisfy all of your fabrication needs. The range of options includes: simple cutting to size and de-burring operations and complicated bending and other extensive operations, we have all of your bases covered! Contact Zarbana today to discuss all of these options!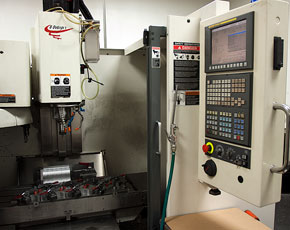 Finishing
Zarbana Aluminum Extrusions, LLC. is proud to offer you a wide range of finishes for your aluminum extrusions. Contact your Customer Service Attendant at Zarbana Aluminum Extrusions, LLC. to find out about the specific finish required for your project!

Anodizing
We partner with multiple vendors to offer you many kinds of anodizing. From Clear Satin Anodizing all the way through to Hard Coat Anodizing, we do it all! We can anodize anything from a 360" lineal down to smallest machined parts.

Powder Coating
Powder Coating offers a thicker finish compared to Anodizing. A broad spectrum of custom colors or stock colors is made available to you. From small parts to the longer lineals, we can produce the finish you're looking for.

Wet Coat Painting
Wet coat painting is offered through a number of vendors. We can match a specific color code you provide or use a stock color to provide the finish you are looking for. Profiles up to 240" long can be painted.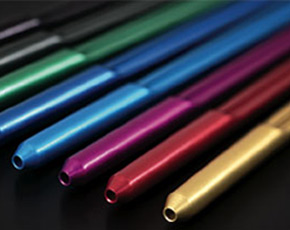 CNC Machining
With the four CNC machines we have at Zarbana Aluminum Extrusions, we can precision machine parts from 1" all the way up to 240" long, while holding very tight tolerances. Custom tooling is created to help speed up the production of the machined parts. We offer competitive pricing for all the CNC machining capabilities we have. Please contact your Customer Service Agent today to find out more!